BOOKS
Cybercrime Investigations: A Comprehensive Resource for Everyone. 
Available for pre-order now, to be published soon.
This book provides a comprehensive view of cybercrime and how to investigate it, giving any investigator the knowledge and tools to work on these cases. All cybercrime can and should be investigated, and this book shows how and why.
Read more at our website cybercrimeinvestigationsbook.com. Purchase from the publisher (Taylor & Francis), Amazon, and other places.
Cybersecurity for the Home and Office: The Lawyer's Guide to Taking Charge of Your Own Information Security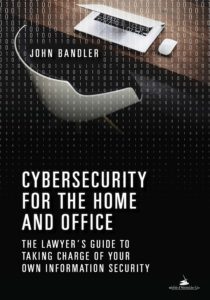 By John Bandler
Published by the American Bar Association.
This book is designed to help everyone take charge of their cybersecurity, to learn the underlying principles and how to implement security measures.
Read more at my website cybersecurityhomeandoffice.com. Purchase from Amazon, Barnes & Noble, the ABA, and more.
ARTICLES
For a complete list of articles, visit: https://johnbandler.com/book-and-articles/
Lawyers, Drugs and Money: AML in Popular Media
By John Bandler, published by ACAMS Today, March 20, 2018, Vol 17 No. 2.
Network Cybersecurity in Your Home and Office
By John Bandler, published by the American Bar Association GP SOLO Magazine, March/April 2018, Vol 35 No. 2.
The article is behind a paywall at the ABA site, I hope to be able to host it on JohnBandler.com soon.
Cybersecurity, Cybercrime, And Our Government
By John Bandler, published October 17, 2017, in the Huffington Post and also hosted at johnbandler.com.
Cybercrime and Fraud Protection for your Home, Office, and Clients
By John Bandler. Published in the American Bar Association's GP SOLO magazine, Volume 34, Number 5, September/October 2017.
The article is hosted and reproduced on JohnBandler.com with permission from the ABA, Copyright 2017 ABA with all rights reserved by the ABA. The original article is behind a paywall at the ABA here.
Cybersecurity for the Home and Office: A Book Preview by the Author
By John Bandler, published  August 2017 by the ABA GP SOLO eReport.
The Cybercrime Scheme That Attacks Email Accounts And Your Bank Accounts
By John Bandler, published August 3, 2017, in the Huffington Post.
Laptop Travel Restrictions, Your Security, And Your Cybersecurity
By John Bandler, published June 29, 2017, in the Huffington Post.
Poor Cybersecurity Choices Spawned Today's Current Events
By John Bandler, published June 5, 2017 in the Huffington Post.
As former FBI Director James Comey prepares to testify before Congress this week, it is worth reflecting about how poor cybersecurity choices gave rise to today's current events and our nation's current crisis...  There are three important cybersecurity lessons we can take away from the election and today's current events.
Read the full article here.
Stemming the Flow of Cybercrime Payments and Money Laundering
By John Bandler
Published in ACAMS TODAY (Law Enforcement Edition), June-August 2017, Vol. 16 No 3
Cybercrime for profit is a global economy that causes most of our cybersecurity and fraud woes and it is a problem to which all anti-money laundering (AML) and financial sector professionals should pay close attention.  It is adaptable, ingenious and lucrative, while imposing vast costs on us.  It victimizes financial institutions and their customers, and it uses our financial system as a conduit to transmit illicit profits and payments.  Cybercrime for profit also provides a foundation for many other types of cybercrime, including hacktivism and nation-state attacks.
The remainder of this article is available through the ACAMS website here.
Cybercrime and Digital Currency
By John Bandler
Published in the ABA Information Law Journal, Autumn 2016, Volume 7, Issue 4
Cybercrime-for-profit has become an enormous industry, and is the cause of most of our internet and information security problems. In order to combat cybercrime, we need to understand how cybercriminals are paid and how they launder their proceeds, and realize that they make heavy use of digital currencies.  Thus, we must understand digital currencies and other digital payment methods, and how they can be misused for criminal purposes.  If you have clients that exchange digital currency, or accept digital currency as payment, then they should be aware of the risks of being used as a conduit for cybercrime digital currency proceeds, so that they don't unwittingly assist the criminals in their crimes.  This will help your clients mitigate reputational, regulatory, and legal risks.
...
The remainder of this article is available through the ABA website here.
By John Bandler
Published in Fraud Magazine, a publication of the Association of Certified Fraud Examiners, July/August 2016
Cybercrime and identity theft have evolved into a sophisticated global economy. Perpetrators use the anonymity provided by digital currency and the internet to hide themselves, their criminal acts and their gains. This nine year cybercrime investigation case illustrates one of the few law enforcement successes in fighting these crimes.
In early 2005, I was a junior prosecutor at the New York County District Attorney's Office. In addition to my usual duties prosecuting street crimes, I was assigned to the identity theft unit, which famed DA Robert M. Morgenthau had recently formed...
...
See the ACFE's Fraud Magazine website here for the remainder of the article (membership/subscription may be required).
Marathon Marine: Col. James L. Fowler
​By John Bandler
This is an article about a friend and mentor who did many amazing things in his life.  It was published in ​Leatherneck - Magazine of The Marines, October 2016, Vol 99, Issue 10
On Oct. 30, 2016, tens of thousands of runners will descend upon Washington, D.C., and northern Virginia for the 41st annual Marine Corps Marathon. Created in 1976, with 1,175 runners at the starting line, the marathon has grown exponentially to include registering the maximum capacity of 30,000 runners and being administrated by a full-time organization dedicated solely to sponsoring racing events. The race is a steady symbol of the Marine Corps ethos and continues to foster military-civilian relationships. It took the leadership of one man—Col James L. Fowler—to see his dream become a reality.
Col Fowler lived his entire life as if it were a marathon. As a Marine, businessman, mentor, and lifelong learner, he took on physical and mental challenges and left a legacy not only for the Marine Corps, but for those around him as well. This fall marks the one-year anniversary of his burial in Arlington National Cemetery, and the rededication of Fowler Hall, the Marine Corps Marathon Headquarters building aboard Marine Corps Base Quantico.
...
To read the rest of the article, visit JohnBandler.com or download the entire Leatherneck Magazine issue from https://mca-marines.org/wp-content/uploads/2018/12/Leatherneck-October.pdf